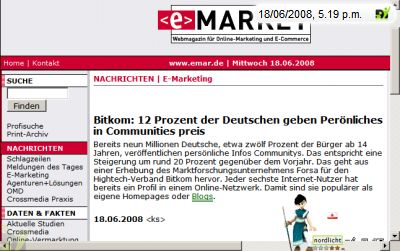 Screenshot mit weblin Publisher
Jeder sechste deutsche Internetnutzer hat ein Profil in einem Online Netzwerk, so Forsa im Auftrag der Bitkom. Nur jeder sechste? Naja, das kommt davon, wenn man sich quasi nur noch im web 2.0 rumtreibt, da scheint sich manchmal die ganze Welt um Blogs, Netzwerke und Comunities zu drehen. Aber eine Steigerungsrate um 20 Prozent zum Jahr zuvor hört sich doch ganz vielversprechend an.

Update: gerde noch gelesen, die Briten sind in Sachen Community und Profile um einiges weiter: "use of the internet shows distinct national differences. Germany leads the three countries in Web research, for example, while UK consumers are the most likely to have created an online profile site on a social networking page" so die jüngste Studie von Harris Interctive.