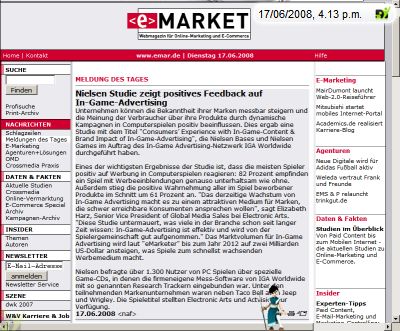 Screenshot mit weblin Publisher
Die Studie mit dem Titel "Consumers' Experience with In-Game-Content & Brand Impact of In-Game-Advertising", wurde von Nielsen Bases und Nielsen Games im Auftrag des In-Game Advertising-Netzwerk IGA Worldwide durchgeführt. Wichtigste Ergebniszusammenfassung:

"Eines der wichtigsten Ergebnisse der Studie ist, dass die meisten Spieler positiv auf Werbung in Computerspielen reagieren: 82 Prozent empfinden ein Spiel mit Werbeeinblendungen genauso unterhaltsam wie ohne. Außerdem stieg die positive Wahrnehmung aller im Spiel beworbener Produkte im Schnitt um 61 Prozent an."

Für weitere Infos auf den Screenshot klicken!