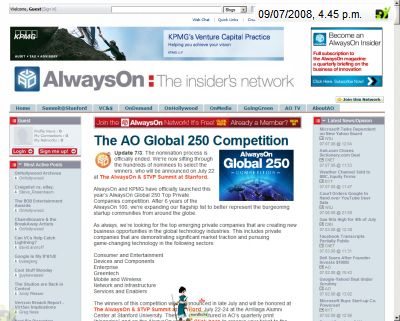 Um zur Liste der Nominierten zu gelangen, einfach auf den Screenshot klicken.
AlwaysOn and KPMG haben ihre diesjährige Nominierung zum " AlwaysOn Global 250 Top Private Companies competition" veröffentlicht.
Der Preis bewertet die 250 "top emerging private companies that are creating new business opportunities in the global technology industries", also weltweit.

Wir freuen uns riesig, dass AlwaysOn weblin in der Kategorie "Consumer and Entertainment" nominiert hat. Weitere Kategorien sind: Devices and Components, Enterprise, Greentech, Mobile and Wireless, Network and Infrastructure und Services and Enablers.

Die Liste der Gewinner wird am 22. Juli bekannt gegeben!